Travel Agency Ingves or short 'Ingves'
History
The family business Ingves (bus company and travel agency) was founded in 1952, which means that it has a history of more than 60 years in bus transports, group trips and taxi services. The siblings Gunnel, Göran and Johan Ingves – children of the founder Bertel Ingves – own and run the company today.
From its humble beginning, with a bus route between Korsnäs and Kaskinen in the southern parts of Ostrobothnia, Finland, Ingves has today conquered Finland, the Nordics, Europe and the rest of the world. Running like a red thread through the company's history  is the fact that Ingves is there for its customers. The company tries to live up to the expectations and needs of the customers today. The company's motto is "Memories, experiences and journeys". This can clearly be noticed within the company's different business areas today – a healthy balance in life is partly created by memorable experiences.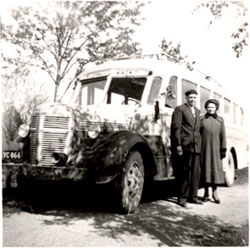 In the picture above, the founder Bertel Ingves with his sister Helmi Ingves. The bus in the background is about to start its maiden voyage. The year is 1952.
The future looks bright for Ingves. The bus fleet is fairly renewed and new investments are being planned. The staff is young in mind but wise in knowledge. The atmosphere in the company mediates openness and tolerance. The work methods are characterized by teamwork, which today is a necessity to develop as a co-worker and a company.